This post may contain affiliate links, meaning at no additional cost to you I may earn a small commission when you click a product or company link. As an Amazon Associate I earn from qualifying purchases.
Have a budding scientist in your home and looking for cute, science-themed dresses with pockets? Want STEM clothing for girls that's both pretty and functional?
In college when I began taking programming classes in earnest and later as I entered the workforce, I had this unshakable feeling that I couldn't express my femininity too strongly in the way I dressed or I wouldn't be taken seriously. I did not want people to define me by what I looked like.
Although I expect my classmates and coworkers didn't much care what I wore as long as I could do the work, this feeling is not unique to me. The fact that the sciences tend to be so dominated by men can make women feel like they can't be entirely themselves if they want to fit in.
I love to see companies that are working to undo this unconscious bias against women in STEM fields, so when I first heard about STEM Stitchery in a local moms group on Facebook, I jumped at the opportunity for an interview. STEM Stitchery's designs are feminine and functional and allow little girls to simultaneously express a love of fashion and a love of science.
Fueled by a desire to see her daughter and other budding scientists in clothing they loved, Angie Gehrt left her job as a pediatric occupational therapist to found STEM Stitchery and create adorable STEM clothing for girls. I think you will love her company and its vision!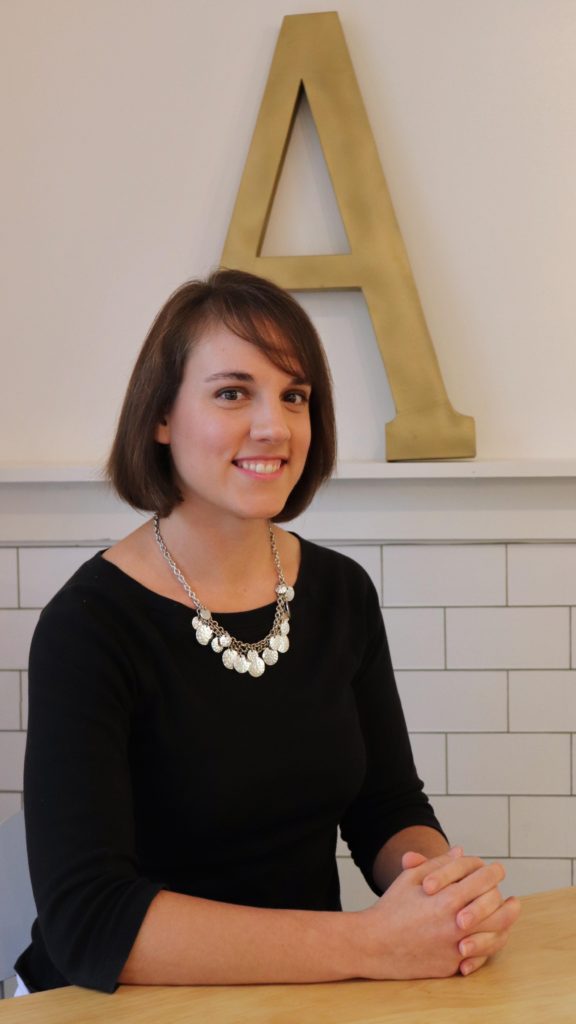 Mommy Knows Tech: How did you come up with the idea for STEM Stitchery?
STEM Stitchery: I partly give credit for this one to my oldest daughter. She wanted a space dress, and I couldn't find one that fit her style, so I made her one. She loved that dress.
Then I remembered an article about how different first interactions with boys and girls are. Girls are told they're cute or they have a nice dress and the like, while boys are asked what they want to be when they grow up and what do they like about school.
I wasn't okay with that, so I decided that if society was going to talk about girls clothing let's at least give them something good to talk about.
MKT: Are there women in STEM (past or present) who inspire you?
SS: I remember being a big fan of Sally Ride as a child. Today, I find myself more inspired by those who had major obstacles to overcome. Katherine Johnson is my current STEM idol. I can't imagine how hard she had to work to prove herself. I think that's why I'm so drawn to her right now, in the youth of my business.
MKT: Do you feel that the work you did before starting your business prepared you for what you do now?
SS: It seems like such a big leap from pediatric occupational therapist to children's clothing line owner. I'm still a little surprised by the transition myself, but yes, I do think it helped prepare me.
In my previous career, I was able to interact with countless families with small children. I got to hear first hand the struggles children had with tags and the challenges parents had finding clothing with themes their girls loved.
MKT: What STEM clothing styles and sizes do you offer?
SS: I have basic skirts for babies from 0-6 months up through 18-24 months.
Starting at size 2, all dresses and skirts have pockets. Real, functional, pockets.
I keep a few ready-made skirts on hand; typically in the 2-8 size range. Dresses I make custom to ensure a perfect fit. I am able to make dresses and skirts up to size 16 Tween.
MKT: I love that your STEM clothing is functional and not just pretty to look at. (Every woman I know rejoices at REAL pockets in their clothes.) Do your clothes offer any other special features?
SS: The most notable other feature would be that my clothes all have stamped care labels. Yay for tag-less labeling!
I also make sure the fabric is a comfortable durable choice, and durable construction is a must. These pieces are designed to be worn, played in, explored in, and experimented in day after day.
MKT: How do you come up with ideas? Where do you find your fabric?
SS: The simple answer is lots of research online. I love hearing what types of interests customers' children have, and trying to fill that void in the market for them.
MKT: Out of all the items you've created, do you have a favorite?
SS: I do. My daughter's "science dress," as it's known in our house. I love the main science print fabric of it, and the accent rainbow panels are from a local artist and so much fun. The flutter sleeves are an extra girly touch, and the giant pockets are perfect for her. I was so giddy watching it come together as I sewed it up.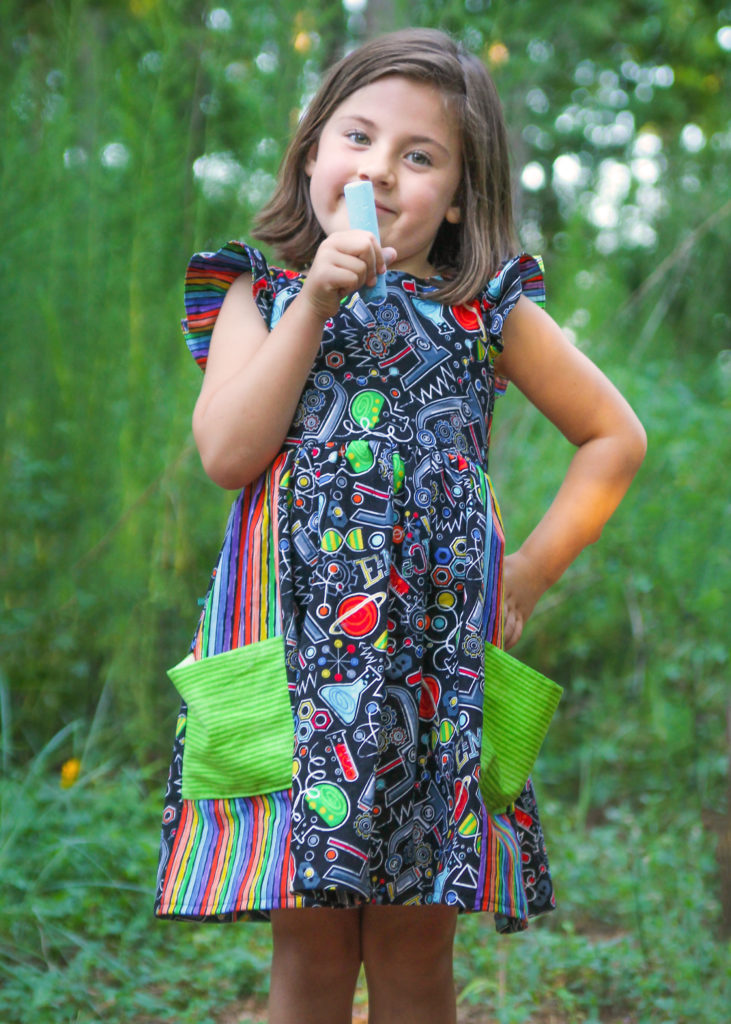 MKT: What does a typical workday look like for you?
SS: I drop off my oldest for kindergarten at 8. Some days I'll take my youngest to a drop in daycare for the morning so I can really focus.
The early afternoons are either spent working (if the toddler naps) or engaging with her. I often work on clerical or social media type tasks while waiting in the carpool line, and then I take the rest of the afternoon/evening off until after bedtime.
After bedtime into the late nights/early mornings tend to be my creative times when I get to work at the sewing machine.
MKT: Have you experienced any special challenges as a female entrepreneur?
SS: I think the biggest challenge I have is that I can't do it all, but I feel like I should be able to. That's an internal struggle and a real frustration of mine. I always want to give more, do more, and be better both as a mother and business owner, but there is only so much to give.
MKT: What has been one of your most rewarding experiences?
SS: I had the pleasure of meeting a five-year-old child as her family purchased an astronaut skirt from me. She loved it at first sight, but her eyes got so much bigger and brighter when I told her the stars on her skirt glowed in the dark. I wish I had a photo of her face. I'm not sure if I'll ever forget it.
MKT: What is your vision for your company's future and its impact on the way society views women?
SS: When I dream for STEM Stitchery I see STEM Stitchery as a household name. I want my clothing to facilitate meaningful insightful conversations with young girls instead of focusing on conversations about how cute their hair or shoes are.
I want girls to be empowered to embrace their love of STEM and feel confident showing it off. That confidence and self esteem can only help as they get older, and face larger problems.
In 15 years, I would love to look back at the beginning of this company and the mission shaking our heads at the way things used to be. Kind of how we are astounded that seat belts weren't always required.
This question reminds me of an experience we had at a local science museum. One of the scientists there was doing a demonstration on the floor of the museum, and a group of 5 kids had gathered to watch. Two were girls (one being my daughter), and three were boys.
The presenter did his demonstration, and then he asked who would like to try it themselves. All of the children raised their hands. The presenter then reached over my daughter standing closest to them to hand the item to the boys. The other girl walked off.
The boys got to use the device as long as they wanted unassisted. When my daughter finally got a turn, the presenter "helped" her with it, so she never got a chance to explore it alone. When it was deemed she had had a long enough turn it was basically pulled from her hands (despite her being the last child to need a turn).
Her turn was at least 50% shorter than the boys had, and she never got to explore and experiment with it her way to test her theories. This is what I'm aiming to stop. These subtle cues all pile up to something huge.
Hopefully if girls are wearing their smarts on their sleeves outsiders will be able to see their passions and engage the girls in them instead of dismissing them like that presenter did to my daughter.
MKT: What pieces of wisdom can you offer to moms who want to help their girls pursue their dreams?
SS: Find or be a role model for her. If you, yourself, don't have a passion or knowledge for her interest, find someone who does.
Maybe that's a neighbor or family member. Maybe it's signing her up for a local class or a specially themed camp. Maybe it's taking her to the library to research the subject and find biographies of strong successful females.
Just let her see others doing what she aspires to do, so she'll have a great rebuttal when someone tells her she can't.
MKT: Thank you so much for your time, Angie! Where can readers find you?
www.stemstitchery.com
facebook.com/stemstitchery
instagram.com/stemstitchery
Locally: That's Too Cute Boutique in Cary, NC
Did you enjoy this interview? Know someone who would love STEM clothing for her little girl?
Give us a save on Pinterest or share with your friends on social media!