This post may contain affiliate links, meaning at no additional cost to you I may earn a small commission when you click a product or company link. As an Amazon Associate I earn from qualifying purchases.
Are you looking for YouTube alternatives for your kids? While I believe that YouTube can be safe for kids when you have the right settings and precautions in place–and if you're picky about channels–I can also completely relate to a desire for something specifically designed for kids.
Related: How to Create Screen Time Rules That Work
YouTube has a reputation for showing kids inappropriate content. The following YouTube alternatives are appropriate for a wide range of ages and provide an abundance of quality video for kids of all ages. Best part–they're all free!
PBS Kids (ages 3-10)
When I was a kid, we were the "weird" family that didn't watch much television. I realize now that limiting my TV intake allowed me to have a much more active childhood. But at the time I just felt "uncool."
When we did watch TV, it was likely to be something on PBS. I have fond memories of Arthur, Sesame Street, Reading Rainbow, Wishbone, The Magic School Bus, and Mister Rogers' Neighborhood.
PBS has a decades-long reputation for producing quality, kid-friendly content, and PBS Kids does not disappoint. With viewing options including their internet website and their phone apps (Android | iOS), you can watch at home or on the go.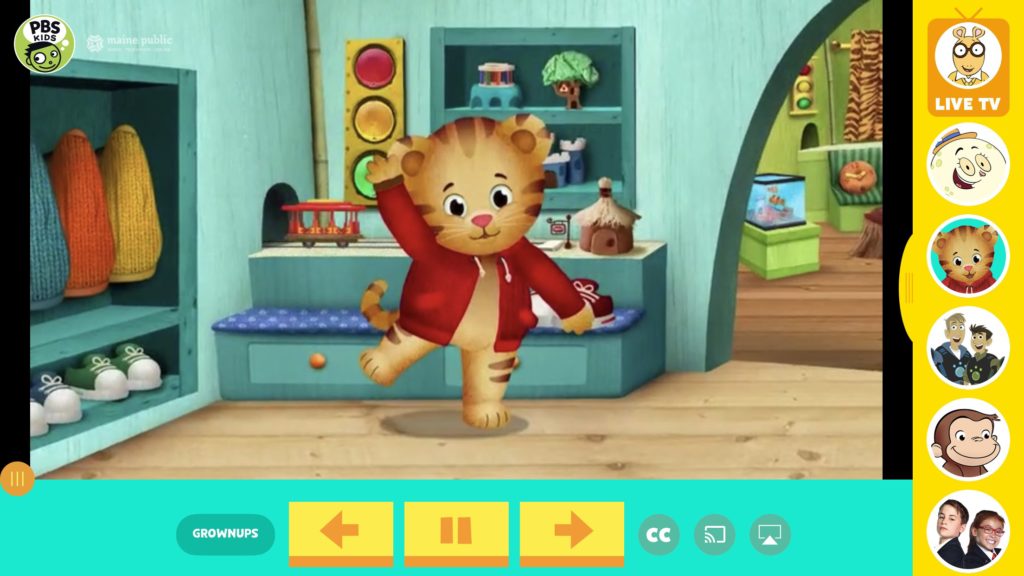 You'll find games, short video clips, and full episodes of more than 30 shows kids (and parents!) love, like Daniel Tiger, Curious George, Arthur, Sesame Street, The Cat in the Hat, Super Why, Clifford, and even old episodes of Mister Rogers' Neighborhood. You can also watch what's live on your local PBS station.
Just like PBS on the television, ads are brief and show only at the beginning of an episode. And they won't have your child begging for a new toy.
When you click on the "Grownups" button in the app, you'll see information about the show that's playing. That info includes the age group the show is intended for, and sometimes the episode's teaching goals.
You'll also see the PBS Kids game apps that are available and have the option to change your local PBS station.
The only issue I have with the app is that there's no option to turn off autoplay, so it's very easy for a child to watch too much without realizing it.
Cakey (age 3+)
If you want YouTube videos without the YouTube issues (inappropriate content, auto-suggested videos, etc.) Cakey may be your solution.
Cakey lets you curate YouTube videos. Your child can watch YouTube videos in a safe environment where you choose which videos they're allowed to watch. The app comes preloaded with a handful of collections.
Cakey is similar to YouTube Kids with its most locked-down settings, but all the content is selected by you or other parents. So you never have to worry about inappropriate computer-selected content making its way into the app.
The app is 100% free, but unlike YouTube Kids, there are no ads.
In parent mode you can create a new collection and delete or edit collections. From the Settings screen you can set a daily viewing limit or turn on audio reminders for your child to take a bite of food.
I personally prefer for meal times to be screen-free time (see my post on setting screen time rules), but I also support doing what works for you. So if Cakey helps you get your kid to eat, you gotta do what works for you.
Nick Jr. (age 3-5)
This app lets you play games and watch clips and full episodes from the Nick Jr. lineup of shows. If you subscribe to Nick Jr. on cable, you can log in for full access. Otherwise, you are limited to a collection of clips, games, and a handful of episodes.
You'll find shows like Thomas & Friends, Paw Patrol, Dora the Explorer, Blue's Clues, Blaze and the Monster Machines, Peppa Pig, and other Nick Jr. favorites. Videos are arranged in playlists by show or by topic (like "spring").
Even without a subscription, there's a lot here, and it's unlikely kids will get bored with it quickly.
BatteryPop (age 4-12)
Created by two former Nickelodeon employees, BatteryPop features a mix of original content for kids. There's no commenting on videos (so you can avoid the craziness that is YouTube comments), and ads are kid friendly, often produced by "Kidfluencers." (Ads start off with a "Hey kids, this is advertising" overlay.)
Most videos are under 5 minutes long. Kids will find content that ranges from science and math videos to Minecraft walk-throughs to Spanish videos to music videos to sports and more.
BatteryPop has been around for several years and contains a TON of content. Although it's supposed to be appropriate for a wide range of ages, most of the content appears to be geared toward slightly older kids (and there's no easy way to search by age).
The Kindie Rock channel is pretty obviously intended for younger viewers, but otherwise you'll have to do some searching for the little ones.
TED-Ed (age 8+)
(browser)
I am super excited to have discovered TED-Ed. It's quite possibly my favorite of the YouTube alternatives. Although it's not age-appropriate for my children yet, I am looking forward to sharing the content with them as they grow and, let's be honest, watching the videos myself now.
From the same people behind TED Talks, TED-Ed's goal is kid-friendly education. Mostly intended for highschoolers (or bright middle schoolers), the videos are engaging for "big kids" (aka grownups!) too.
Related: 15 Outstanding TED Talks That Will Make You a Better Parent
You'll find videos on a wide range of topics including art, literature, science, technology, and math. Some are actual TED Talks (or clips from them) and others are original videos created especially for TED-Ed.
After watching a video, you can view the "Think" tab for multiple-choice questions that will quiz you on what you just watched, "Dig Deeper" for more in-depth information about the video's topic, and "Discuss" for a chance to interact with other viewers about the video.
Sesame Street (age 3-5)
Can you tell me how to get to Sesame Street?
Take a love for Sesame Street deeper with this app that's full of games and video clips from your child's favorite Sesame Street characters.
Videos are arranged by character (e.g., "Big Bird Videos"). If you open the app's menu, you can also see videos and games collected by "Learning Areas," such as arts, emotional development, health, math, and more.
GoNoodle (age 5+)
Personally, if I'm going to encourage my kids to be physically active, I'd much prefer to get them to go outside rather than watch "fitness" video. But on rainy days or in other situations where going outside isn't the best option, an app like GoNoodle can be very useful.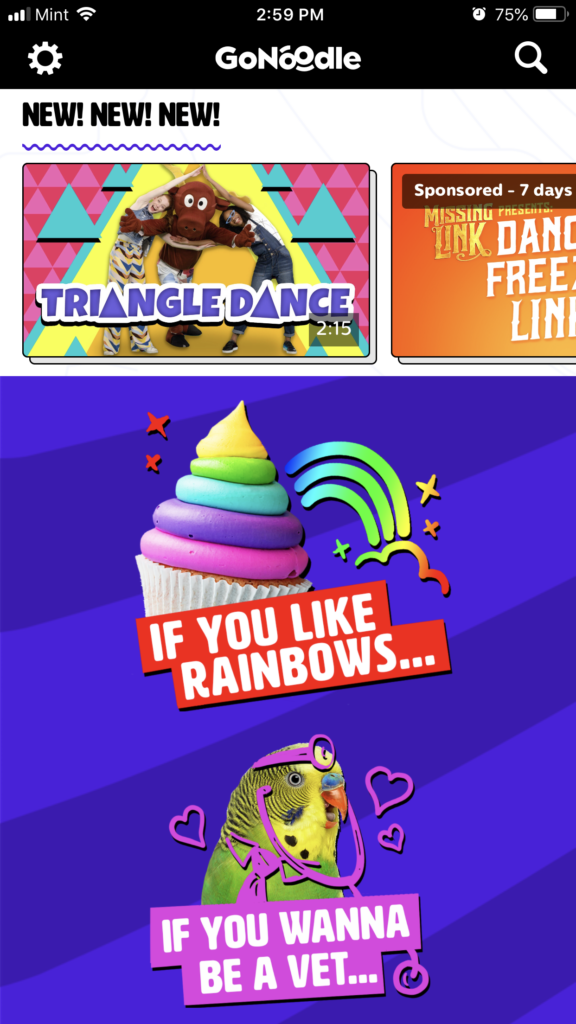 Kids can browse through the app's collection of short videos (about 2-5 minutes each) that encourage them to get moving. The app's branding is colorful and interesting.
Kids can choose individual videos like "Boom Chicka Boom," collections like "Lunch Time Mix," or videos that are "Loud, "Dynamite," "Sporty," or to watch "If you like llamas" or "If you're bananas."
There is a time and place for YouTube alternatives…
Personally, as much as I love technology and its benefits for modern parenting, I'd rather my kids be doing something active. It's part of my definition of balance and intentional living. You can read in this post about how I stay sane while reducing screen time.
But for those times when I feel a video or a computer game is appropriate, I will definitely be turning to these YouTube alternatives for some kid-friendly options.
Have you tried any of these YouTube alternatives? How do you prefer to let your kids spend their screen time? Let me know in the comments!
Make sure you pin this post so you can come back to it later!